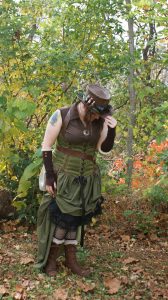 I'm actually an android and web developer by trade, but I love to make physical things now and then, too.  I've been trying to get into the realm of crafting steampunk type things, and that was actually the reason I started into the little bottles; the first two were accessories on the steampunk hat I made.
The name Paper Calico is a nod to a sweet calico cat I had years ago.  I went through a few different name ideas, but when this one hit, it just clicked.
My main focus for now is esoterica sorts of things – stone and glass wire-wrapped magic wands,  little bottles filled with alchemy components (not real), spell and potion components (generally real), and little moss ball "pets."
For the paper carousel cards, I was inspired by a magical circus book I read and loved so much I read it again immediately after the first read. Once I realized how fun it was to fold my little paper "sketch" flat and pop back up, the idea of offering them for sale in a very customizable way entered my head and wouldn't leave.
Many thanks to my amazing husband, who drew my fabulous logo!  You can see more of his work at his facebook page – I suggest hitting Like on it, so you can see when he does fun blitz sort of promos, like Dollar Doodle Days!